Knitting Patterns
The patterns for most of the knitted things on this site are now available in these handy little books.
They contain all the information you need to create the finished items, with example of how they should look.
The books are £5 each.
Buy 3 for £14 (Please add a 'note to seller' when paying at PayPal, specifying which 3 pattern books you would like)
All patterns are devised by Crafty Old Crow.
Patterns in each book:
Knitted Microbes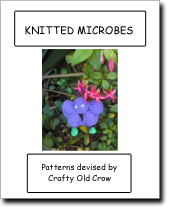 Microbe drawings
Bedbug
Chlamydia
Cholera
Common cold
Compylobacter
Ebola
E-coli
Herpes
MRSA
Penicillium
Salmonella
Staphylobacillus
Streptococcus
Swine flu
TB
Thrombacyte
More Knitted Doodahs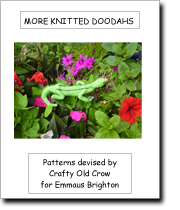 Baby Badger
Lizard
Bee
Ladybird
Puppy
Tiny Tortoise
Frog
Chamelion
Baby Rabbit
Tortoise Tea Cosy
Chicken Tea Cosy
Balaclava With Moustache
More Knitted Doodahs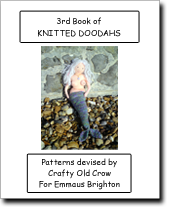 Mermaid
Badger Pyjama Case
Boys in the Hood
Cat Pyjama Case
Fish
Fox Pyjama Case
Gas Mask
Pig Pyjama Case
Rabbit Pygama Case
Roadkill Cat
Robot
Space Gun
Space Shuttle
Tarantula
3rd Book of Knitted Doodahs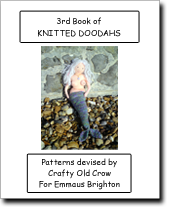 Mermaid
Badger Pyjama Case
Boys in the Hood
Cat Pyjama Case
Fish
Fox Pyjama Case
Gas Mask
Pig Pyjama Case
Rabbit Pygama Case
Roadkill Cat
Robot
Space Gun
Space Shuttle
Tarantula
4th Book of Knitted Doodahs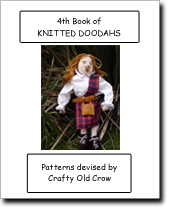 Anatomically Correct Highlander
Highlanders Shirt
Highlanders Clothes
Burlesque Doll
Burlesque Dolls Clothes
Unhurried Hare
Puffin
Hottie Bottle Cover
Sea Lion
Baby Boy Doll
Baby Boy Part 2
Christmas Doodahs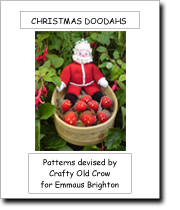 Candle & Holder
Champagne Bottle
Christmas Cake
Santa Claus
Gingerbread Man
Heart
Mistletoe
Plum Pudding
Snowman
Xmas Pixie
Xmas Robin
Xmas Tree
Knitted Potplants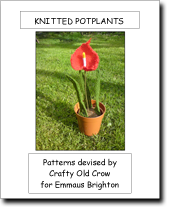 Anthurium
Arum Lily
Chives
Crocus
Dwarf Aster
Leaves
Oxeye Daisy
Peppers/Chillies
Pinks
Primula
Red Hot Poker
Senetti
Simple Poppy
Spider Gerbera
Tulip (closed)
Knitted Fruit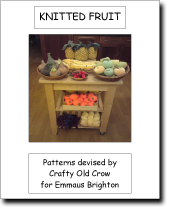 Apples
Bananas
Cherries
Grapefruit
Grapes
Lemons
Oranges
Pears
Pineapple
Strawberries
Knitted Flowers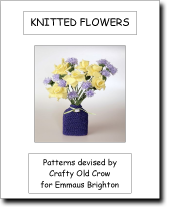 Cornflowers
Daffodils
Foxgloves
Bluebells
Lily of the Valley
Fuchsia
Iris
Poppy
Roses
Snowdrops
Sunflower
Thistles
Tulips
More Knitted Flowers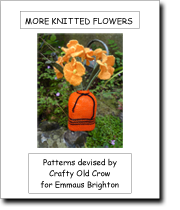 African Violets
Cacti
Chrysanthemems
Flowerpot
Lavender
Mecanopsis
Nasturtiums
Pelargoniums
Water Lilies
Poppy Buds
Vine Leaves
Knitted Tea Cosies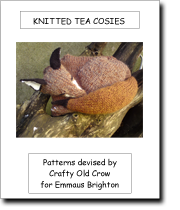 Aardvark
Alligator
Badger
Bird
Cat
Chameleon
Chicken
Deer
Dog
Fox
Mouse
Pig
Rabbit
Tortoise
Knitted Birds (and mouse)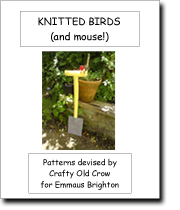 Bluetit
Chicken
Housemartin
Kingfisher
Milkbottle
Mouse
Robin
Seagull
Sparrow
Wren
Knitted Eddie Stobart Lorries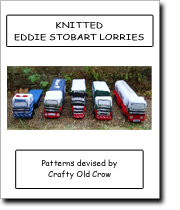 AEC Wheel Tipper
Atkinson Borderer
Atkinson 3 Axle Dropside
Old Fashioned Truck
Oxford Low Loader
Scamia Curtainside
Skeletal Container
Tanker
Logos
Model & Stencil Instructions
Medieval Costume Dolls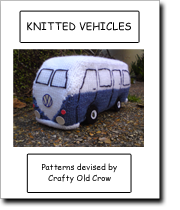 VW Camper van
Model T Ford Truck
Sports car (Jaguar E type)
Motorhome
Land Rover
Royal Mail Van
VW Beetle
Thomas the Tank Engine
Robin Reliant
Gangsters Car
Greengrocers Van
Medieval Costume Dolls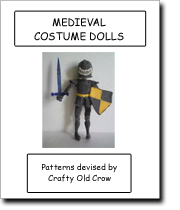 Basic Doll
Peasant Man
Queen
Friar
Grey Knight
Red Knight
Knights Lady
Peasant Woman
Sword & Crown
Shield